ALESSANDRO PERINI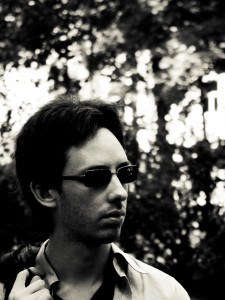 Alessandro Perini, born in 1983 in Cantù (Co), studied Communication Science and Technology of Musical Composition and Electronic Music in Italy and Sweden.
His output ranges from instrumental to electroacoustic music, also including multimedia installations, video and interaction systems.
His video works have been exhibited in group exhibitions in Italy, Switzerland and the USA, and selected by film festivals around the world, including Digital Graffiti, Filmsharing, Miniminutes, chroma, SENEF, Magmart, Sardinia Film Fest, and Mestre Film Fest Big Screen Project.
————
For TEC ART ECO FESTIVAL – 01 GERMINAZIONI
ALESSANDRO PERINI presented the installation "CLICK FOR DETAILS"
in the fascinating and mysterious interior of the tower GATTONI / September 30, 1 and 2 October 2010
This installation is conceived as a study about a possible relationship between sound, light and space.
The core of the work is a looped 4-channels electronic music track, entirely produced using a single impulse (mathematically a Dirac delta, also called "click" or "glitch") as the only source for the whole piece. The click has been processed exclusively with reverberation and filters in Csound. The Csound opcode used to generate the click is mpulse. The constraint of limiting to the extreme minumum the source material calls the listener for a recognition of the narrowest semiotic spaces, where the slightest distinctive feature is pertinent. Dealing with the opposition between global and local, the musical development extracts, from time to time, from the overall mass, the specific characteristics of each single individual, claiming its right to uniqueness.
The click represents all the sonic energy concentrated in an extremely short instant: in other words it is the smallest timeslice of white noise. The concept of "white" is the link that permits to build a theoretical bridge from sound to light: in fact a relationship of identity is established between white light (sum of all colors) and white noise (sum of all sounds).
Anyway, the work is far from the the traditional dualism of sound and visuals as an artificial combination of two different levels of perception, as found for example in cinema, where the usually frontal screen provides images of objects which are spatially unrelated with the sounds they are producing, since the sound system is not the screen, however sophisticated it might be. The installation "Click for details" tries instead to provide the audience with an experience of sound and light as two aspects of a sole entity, related to the same source, as it is also the case for some natural phenomena connected with electricity and fire such as thunders, sparks and so on.
Alessandro has also participated as speaker at the conference TEC ART ECO IN-TERACTIVE PROGRESS / October, 6 2010- Palazzo dei Congressi – Lugano (CH)