Cristian Vogel
Cristian Vogel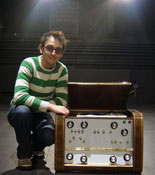 partecipa con MOTION FRAMES e alla conferenza WorkinProject#3 (Pafiglione Conza, 6 maggio h.18.30)
e con la colonna sonora dello spettacolo SPIDER GALAXIES a Gallarate per FESTIVAL 03 PERFORMAZIONI

Cristian Vogel is a composer and music producer, known for his experimental DJ and
Live performances, electronic music composition and production. Born in Chile 1972
and raised in the UK, he now lives and works in Barcelona. In the early nineties he
studied 20th Century Music at Sussex University, under the tutor-ship of the British
composers, Johnathan Harvey and Martin Butler. Since then, he has recorded many
unique albums, releasing on eminent experimental techno labels such as Tresor
Berlin, Novamute, Mille Plateaux and other underground vinyl labels. Cristian has
been touring worldwide since 1993 as DJ and live improvisation, both as solo artist
and for a period with Jamie Lidell in Super_Collider. Of late, he has been singing and
playing guitar in his song-based band project Night of the Brain. As studio remixer,
he has been invited to reinterpret songs by artists as diverse as Radiohead, Maximo
Park, Thom Yorke, Juan Atkins, Pedro Carneiro among many others. Cristian Vogel's
producer credits include albums for Chicks On Speed, Cafeneon, Panico, Virus, Las
Perras del Infierno and others. In 2003, Cristian moved into the world of
contemporary dance with the composition of original scores and live soundtracks for
the renowned Swiss choreographer Gilles Jobin. To date, he has collaborated on six
critically acclaimed pieces for Jobin, which have been performed in theatres around
the world, such as Theatre de la Ville in Paris, Spiral in Tokyo and many more. As
well as dance, Cristian has been involved in other art projects with international multimedia
artists – Roland Olbeter's 'Soundclusters' for Sonar Barcelona 2003, Artificiel's
'Bulbes' for the Montreal museum of Contemporary Art in 2003, Stefan Bruggeman's
'A Production of Nothing' in 2005 and ' 1000 beats 1 beat' for Pieter-jan Ginckels in
2007. In 2008, Edicioned Minimas published a limited edition book and CDr of his
lyrics and poetry, "9:09″. He has also been behind four independent record labels
over the years, Station 55 Records, Rise Robots Rise Records, Mosquito Records
and Sleep Debt Records, as well as hosting a long running internet community
known as Erutufon. Cristian Vogel is resident producer and mastering engineer at the
Station 55 Electronic Music Studio in Barcelona.