i-LiveCrossMedia – call for application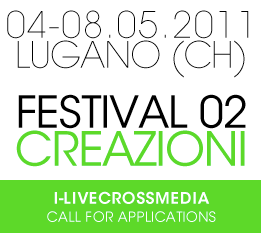 TEC ART ECO Art and Technology for the environment
FESTIVAL 02 CreAzioni | 4-8 may 2011 | Lugano (CH)
www.tecarteco.net
presents
International i-LiveCrossMedia
Call for participiants
CALL FOR PARTICIPANTS
The call for participation is now open for the International i-LiveCrossMedia of TEC ART ECO FESTIVAL promoted by Avventure in Elicottero Prodotti (LUGANO) and Ariella Vidach – AiEP Association (MILAN) with the support of the P.O. di Cooperazione Transfrontaliera Italia – Svizzera / FESR – Fondo Europeo di Sviluppo Regionale, scheduled in LUGANO (CH) from 4 to 8 may 2011.
i-LiveCrossMedia is a big section of TECARTECO FESTIVAL 02 CREAZIONI, a platform to confront practices and aesthetic of audiovisual interaction for every type and format. It is a space dedicated to innovative productions that will design the future scenarios of electronic music; i-LiveCrossMedia presents the most technological and innovative artistic experimentation.
WHO young artists (< 35 years old) presenting projects that employ images, Electronic, Electroacoustic, Analaogue and Cinematic music means to produce audiovisual output.
WHAT The works must have the following characteristics:
01 / duration maximum of 20 minutes
02 / Contain innovative practices of generating and/or mixing live and/or interaction of images and sounds of any type and format.
03 / Possibility to be performed in a single event space, single or multi-screen
DEADLINE: to be received before April 15th, 2011 – h.24.00 (CH)
Selected authors will be notified by April 22, 2011
SELECTION:
A panel of experts will select n.04 works to be presented on the evenings of 5 and 6 May 2011 (combined with an international artist.).
The next step involves the definition of technical details relating to the performance and travel details.
Tec Eco Art Festival will cover travel expenses, accommodation, per diem and technical rider.
On the evening of May 6, 2011 will be decreed the winner of i-LiveCrossMedia.
The winner will be presented during the biennium 2011-2012 within one event promoted by the associations Avventure in Elicottero Prodotti and Ariella Vidach – AiEP (to be determined depending on the project)
REGULATION
enCALL FOR APPLICATION_I-LIVECROSSMEDIA
Participant candidates are required to send the annex form (.pdf) by April 15th, 2011 – h.24.00 (CH)
to info@tecarteco.net
title: ENTRY International i-LiveCrossMedia
Each sheet of the documents submitted must have header with: title of the works, name of artist, contacts
ATTACHMENTS: demo, audio tracks, video track or any visual documentation must be received through links (vimeo, youtube …) or download
The registration form and additional materials can be sent by email in a compressed folder. zip and uploaded to your web space.
INFO:
info@tecarteco.net | tel. +39 02 3450996